24 April 2018
Madam Chairperson,
Members of the Committee,
Distinguished Participants;
We wish to bring to the attention of the Committee our concern on the issue of child trafficking notably in Cameroon and in many African countries. Child Kidnapping and Trafficking has increased in Central African states especially Cameroon over the past few years. Many of these atrocities are being perpetrated by childless couples and "business people" who use these children for commercial sex workers, organ donors, transport some to faraway places where they are forced to work as pickpockets, beggars and drug transporters.
On March 3, 2018, the bodies of three children aged two, four and seven years old, were found in a vehicle at the Southern border Town of Kiossi a Town bordering Gabon and Equatorial Guinea. After raiding the hotel Inn belonging to one of the traffickers by angry residents, a group of children were rescued by the forces of Law and order of Cameroon. According to a Senior Administrative Officer of the NTEM VALLEY DIVISION, the traffickers kidnapped these children, took them into an Inn deep down into the quarter in Kiossi. They administered some toxic products and these children died. They then put their bodies inside bags and tied them, and put all of them in the back booth of their vehicle. He reported that, fifteen suspects alleged to be members of the child trafficking cartel operating in Cameroon, Gabon and Equatorial Guinea have been arrested.
This issue comes up barely two years after another report by the Yaoundé-based Interpol office for Central Africa in 2016 that, thousands of children, alongside men and women, have been forcibly abducted in Cameroon, Chad, Central African Republic, Gabon, Equatorial Guinea and the Republic of Congo to be recruited as Boko Haram combatants in the North of Cameroon, cooks, guards, sex partners, servants, messengers, and spies. The increasing incidents of child trafficking in Cameroon is due to the fact that the State of Cameroon has not put in place concrete measures to avoid the recurrence of the situation.
According to the 2016 Trafficking in persons Report[1] by the U.S Embassy Yaoundé, the anti-trafficking taskforces and the inter-ministerial anti-trafficking committee lack funding and other resources, which severely hamper their ability to fulfill their mandates. As a result, only two regional anti-trafficking investigations on offenses were carried out in 2016.
In addition, the government failed to convict individuals under the trafficking statute, it failed to adhere to its own sentencing requirements, it issued suspended sentences for trafficking crimes and allowed for settlements out of court.
Moreover, Cameroon did not provide anti-trafficking training for its law enforcement officials and it did not provide any repatriation assistance or victim services to dozens of Cameroonian trafficking victims identified abroad.
We therefore request the Committee to urge Cameroon to:
Increase its efforts to investigate, arrest, and try perpetrators of child trafficking, including complicit officials.
Provide repatriation assistance to victims and enact laws to address the lack of victim protection measures
Increase collaboration with neighboring countries and NGOs in tracking child-traffic networks, identifying and protecting victims and raising awareness of trafficking nationwide and in the central African sub-region.
Provide funding and training on trafficking investigations to the inter-ministerial anti-trafficking committee and regional taskforces.
Expand training for law enforcement, judiciary personnel, and social workers on the anti-trafficking section of the penal code, train government officials and sensitize NGOs on the standardized procedures for referring trafficking victims to services.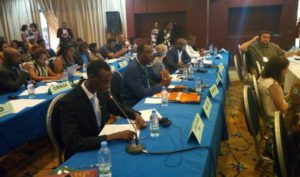 [1] https://www.state.gov/j/tip/rls/tiprpt/countries/2016/258739.htm