21 March 2017
IHRDA bids farewell to Ms. Nicole Ismene Zarifis who served as the Director of Programs from January 2016 to March 2017, and is taking up a new appointment at the African Court on Human and Peoples' Rights in Arusha, Tanzania.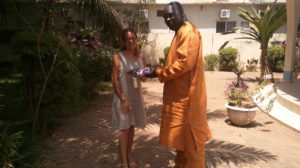 Speaking at the farewell ceremony, IHRDA Executive Director Gaye Sowe described Nicole as a hardworking and devoted professional, who approached her work with a lot of professionalism and contributed enormously to the success and advancement of IHRDA's mission over the last year. "We shall always remember that it was thanks to your (Nicole) expertise that IHRDA has included transitional justice amongst its thematic areas of work and we shall continue to collaborate in this area even beyond this point," Gaye remarked.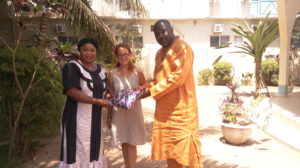 For her part, Nicole commended the team of committed professionals at IHRDA with whom she was able to achieve quite a lot within a very short time. "Honestly, this has been the busiest job I have ever had throughout my professional career, and it has been quite rewarding and enriching", Nicole observed.
The entire IHRDA family wishes her well in her new appointment.