Press Release
Banjul – 15 April, 2015
IHRDA Organises Regional Meeting of Experts on Statelessness and the Right to Nationality in Africa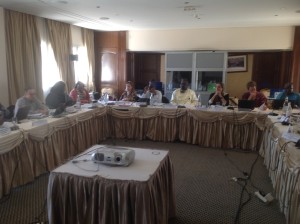 IHRDA, with the financial support of Open Society Foundation (OSF), organised a three-day brainstorming meeting of experts on the question of statelessness and the right to nationality in Africa.
The meeting took place at Tunis in Tunisia on 8 to 10 April 2015, and brought together about 30 experts from across Africa and Europe to reflect on the draft Protocol to the African Charter on Human and Peoples' Rights on specific aspects related to Statelessness and the Right to Nationality in Africa.
Speaking at the beginning of the deliberations, Commissioner Maya Sahli Fadel, the Special Rapporteur on Refugees, Asylum Seekers and Internally Displaced Persons in Africa, described the Tunisia meeting as crucial as it was expected to bring forth sound inputs for the final proposal document to be presented at the upcoming Ordinary Session of the African Commission for eventual adoption.
On her part, Monique Ekoko, acting Representative of the United Nations High Commission for Refugees (UNHCR) to the African Union (AU) and the East African Community (EAC), commended the quality of the draft protocol which evoked some very pertinent issues on the subject matter, and assured participants of the continuous support of the UNHCR to this cause in Africa.
The draft protocol, which served as the working document for the meeting, was introduced by Bronwen Manby, visiting Lecturer at the London School of Economics, UK (and former Board member of IHRDA). Thereafter, the experts did an in-depth review of the document, from its title, through the preamble, to the specific provisions. Some key issues addressed relate to the procedures to obtain nationality; protection of nationality; nationality and marriage; nationality of a child; issues of residence; plurality of nationality; proof of nationality; renunciation of nationality; loss of nationality; reinstating nationality; protection of displaced persons; as well as definition of key concepts.
At end of the meeting, Commissioner Maya Sahli Fadel expressed satisfaction at the deliberations and inputs of the experts, and noted that the initiative for this protocol would go a long way to boost the efforts to combat and eradicate statelessness.
It should be noted that, prior to the Tunis workshop, there had been a series of brainstorming and consultative sessions on the nationality question, involving various stakeholders such as States, organs of the AU, the UNHCR, the civil society and the media.