16th March 2015
IHRDA Launches Online Database on Sexual and Gender Based Violence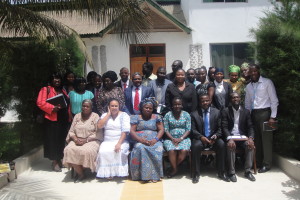 Banjul – The Institute for Human Rights and Development in Africa (IHRDA) has launched its online database on Sexual and Gender Based Violence (SGBV), sgbv.ihrda.org.
The milestone event took place Monday 16 March, 2015 at the Paradise Suites Hotel in The Gambia, in the presence of some Gambian government officials, representatives of diplomatic missions, international and national civil society organizations, as well as media actors.
In his launching address, acting Dean of the Faculty of Law, University of The Gambia, Johannes Buabeng-Baidoo, described the database as 'indeed an innovative and milestone initiative to inspire and support the cause for gender equality and justice in Africa'. Emphasizing the relevance of the initiative to explore the use of online information and communication technology in the documentation and publication of legal resources, the varsity don testified that previous online resources (notably the case law analyzer on the African Human Rights System) developed by IHRDA have been veritable easy-to-access working tools for jurists and students in his faculty, especially in situations where books and hard copies of documents are lacking.
Speaking earlier, Director of Programs for IHRDA, Mr. Gaye Sowe, explained that the present SGBV database is a pilot action that has targeted only 3 three African countries – the Democratic of Congo, Kenya and Uganda, where the prevalence of SGBV is rife, amidst conflicts. He however noted that IHRDA envisions expanding the tool to cover the entire continent. The database, Mr Sowe added, will help to 'provide litigators, defenders, and researchers in the field of SGBV at the African domestic, regional and sub-regional levels as well as beyond, with an easy, free-to-access and use, analytical, and effective tool for research on legal materials including case law on SGBV', and 'will go a long way in filling the gap in information on jurisprudence on SGBV on the continent, and spearhead the further development and harmonization of legal resources and initiatives for dealing with SGBV'.
The development of the database was realized with the financial support of John and Catherine T. MacArthur Foundation, and the technical support of Federation of Women Lawyers – FIDA (Kenya), Arche d'Alliance – ARAL (Democratic Republic of Congo), Public Interest Law Clinic – PILAC (Uganda) and HURIDOCS (Switzerland).
Representatives of FIDA, ARAL and PILAC attended the launching ceremony and shared their experiences in the development of the tool.
It should be recalled that this online analytical database of legal resources on SGBV is an extension of the Case law Analyzer (caselaw.ihrda.org) which aims to provide free and accessible online analytical resource of legal materials within the context of the African Human Rights System.