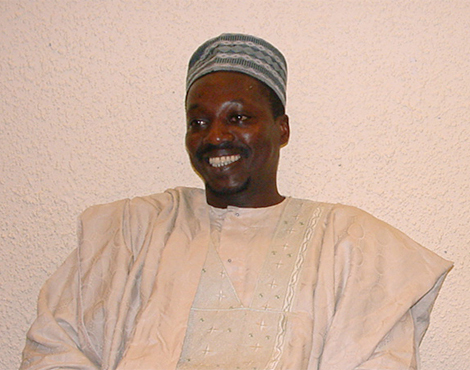 It is with great sadness that we announce the death of Alpha Fall, IHRDA's co-founder, on 21 April 2011, in Brussels, where he was receiving medical treatment.
Alpha's contribution to human rights in Africa has been immense. After working at the Secretariat of the African Commission on Human and Peoples' Rights, Alpha became co-founder of the IHRDA in 1997 and later its Executive Director. Alpha believed strongly in defending human rights, and he lived this passion unreservedly.
Alpha's vision for IHRDA was that it would help render the African Charter real and live, by spreading knowledge of its protections and bringing African treaty bodies to their full potential. To the realisation of this vision, Alpha brought tremendous intelligence, energy, determination, integrity, eloquence and good humour.
Those who did not know him well may remember him as an incisive participant in human rights fora all over Africa. Those who worked with him directly remember his strongly-held opinions and tireless work, motivated by deep concern for the victims of injustice and leavened by personal warmth.
Alpha helped train hundreds of human rights defenders in Africa to promote and seek protection of their rights under the African Charter. He lectured at universities, facilitated workshops, and was a pioneer in filing pro bono cases on behalf of victims of human rights abuses. Living by his belief in the need to build human rights institutions that serve the common good rather than individuals, Alpha helped to build IHRDA into an institution that survived the departure of its founders.
As a founder member of Rencontre africaine pour la defense des droits de l'homme (RADDHO) from 2000 Alpha participated in all its activities relating to human rights promotion and education pertaining to international human rights treaties, conventions and state obligations in the field of human rights.
Alpha studied law at Cheikh Anta Diop University in Dakar. After graduation, he worked for a time at IPRES, the Senegalese government pension fund, before beginning his human rights work. He received an LLM in human rights from the University of Notre Dame, Indiana, USA. After leaving IHRDA in 2005, he worked for the International Centre for Transitional Justice and then for Global Rights in Kinshasa. At the time of his death, Alpha was Head of the Transitional Justice Unit of UN OHCHR in Bujumbura.
In 2000, he married Nana Vyuzura and they had two sons, Manel and Pape Ilhan, and a daughter, Naila, who survive him. IHRDA has opened a condolence book at its offices in Brusubi, as well as at the venue of the NGO Forum and welcomes condolence and remembrance messages that will be passed on to Alpha's family. The funeral will take place on Friday 29 April 2011 in St. Louis, Senegal. Our heartfelt sympathies to Alpha's family.