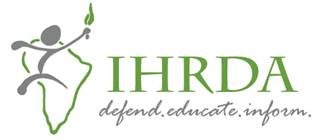 VACANCY: PORTUGUESE SPEAKING LEGAL INTERN
IHRDA is seeking to recruit a Legal Intern (Portuguese speaking) to start work on April 18th 2011 for a period of six months. Under the supervision of the Deputy Director, the legal intern will be involved in the main programme areas of IHRDA, namely litigation before African regional human rights bodies, publications on the African Human Rights System, training on using the system, and research.
SPECIFIC RESPONSIBILITIES
–     Background research on a specific Portuguese-speaking country (to be determined) in order to assist with identification of critical and emerging issues for litigation purposes; the selected intern will be expected to produce a comprehensive report;
–     Putting together a database of contacts in the specific country;
–           Editing and translation of material in Portuguese to be posted on IHRDA's website and its online tool for African human rights case law (http://caselaw.ihrda.org).
QUALIFICATIONS AND ELIGIBILITY:
–          Degree in law from a recognised university; specialisation in human rights is desirable;
–          Knowledge of the African regional human rights system and the African Union;
–          Fluency in Portuguese, with good working knowledge of English or French;
–          Good writing skills;
–          Computer literacy.
BENEFITS
–          Monthly internship stipend;
–          Housing and health insurance;
–          A return economy class air ticket from the country of residence.
APPLICATION INSTRUCTIONS
Applicants should send the following documents to Adam Jobe at ajobe@ihrda.org copied to ihrda@ihrda.org:
–          Application letter addressed to the Executive Director expressing interest and qualifications for the internship;
–          A  Curriculum Vitae with contact details of two referees;
–          A sample of writing  in Portuguese and English (or French)
Application deadline:  Tuesday 15th March 2011.  Only short-listed candidates will be contacted.
For more information on our activities to promote human rights and strengthen the human rights enforcement mechanisms of Africa, please visit our website at www.ihrda.org or contact us at ihrda@ihrda.org
Visit our free online database with automated analysis of all decisions of the African Commission on Human and Peoples' Rights at http://caselaw.ihrda.org or click on icon below.