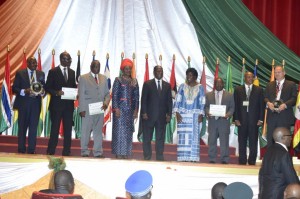 During the opening ceremony of the 52nd Ordinary Session of the African Commission on Human and Peoples' Right (ACHPR), the Institute for Human Rights and Development in Africa (IHRDA) was awarded a prize as the first runner up for Non-Governmental Organizations (NGOs) working toward the promotion and protection of human rights in Africa and the work of the African Commission. The award was handed by the President of the Republic of Côte d'Ivoire, His Excellency Alassane Ouattara to the Executive Director of IHRDA. The award symbolizes the ACHPR's appreciation of IHRDA's efforts to make the African Human Rights system a powerful tool for advocacy and justice.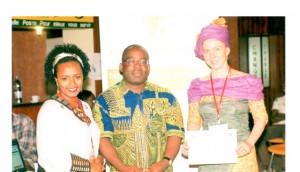 IHRDA does not only restrict itself to pro bono legal representation for Africans who suffer human rights violation but goes further to educate and inform the African continent about their rights. It does this by conducting workshops and publishing books.
In addition, IHRDA makes available decisions and instruments from the African human rights mechanisms . These decisions can be found on the Case law Analyzer website: http://caselaw.ihrda.org.
IHRDA keeps the world informed on latest news and development related  to human rights on the African continent  through Facebook, Twitter and LinkedIn.
This award comes as a recognition of IHRDA's values are embedded in the acronym "DID IT" which stands for Dedication, Integrity, Diligence, Innovation and Teamwork. This acronym has guided IHRDA throughout its almost fifteen years of service and will continue to do so in the coming years. IHRDA wishes to congratulate the Centre for Human Rights, Pretoria, South Africa for winning the first prize and African Centre for Democracy and Human Rights Studies (ACDHRS), Banjul, The Gambia for winning the second runner up prize.