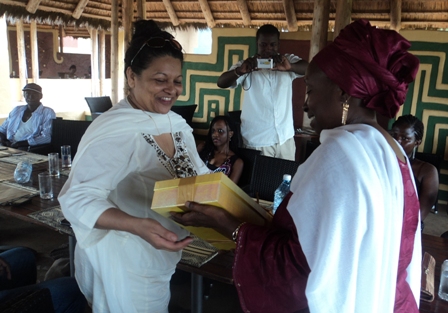 After five (5) and six (6) great years of dedicated and progressive leadership, IHRDA announces that Sheila Keetharuth and Angela Naggaga are leaving the organisation. Sheila was IHRDA's Executive Director from November 2006 to June 2012 and Angela, the Deputy Director from January 2006 to July 2012
Sheila is replaced by Dr Aristide Nononsi from Benin while Angela's replacement is Meskerem Geset Techane from Ethiopia. Aristide took office on July 17 2012 and Meskerem joined on June 19 2012 (See their bios below).
We are honoured for the years of service as Executive Director and Deputy Director, Sheila and Angela said. We are proud of the achievements the organisation made during this period and are appreciative to our staff and Board, donors and partners with whom we have worked.
During our respective tenures, IHRDA has consolidated its work and reputation as a human rights litigator and trainer in Africa, and as publisher of African human rights law. IHRDA now works in several countries including The Gambia, Kenya, Mauritania, Ethiopia, DR Congo, Congo Brazzaville, Malawi, Angola, Uganda and Nigeria, offering legal counsel in varying capacities to victims of human rights abuses. IHRDA's legal representation stretches from national courts to the African Commission on Human and Peoples' Rights. As we leave, IHRDA is poised to expand its avenues of recourse to regional economic community Courts and the African Court on Human and Peoples' Rights.
IHRDA has also grown and strengthened its human resource base and is currently able to rely on the professional services of competent, dynamic and committed Anglophone and Francophone staff. IHRDA also continues to provide leadership in litigation and publishing in Africa, and looks to apply more emphasis and effort in ensuring complete implementation of human rights decisions on the continent.
During our tenure, IHRDA maintained working relationships with key African human rights institutions and fruitful partnerships with fellow human rights NGOs in Africa and beyond. We thank them and urge them to keep the warm relations. We also thank the Attorney-General's Chambers of The Gambia and the National Agency for Legal Aid for the years of collaboration, since 2005, as we worked towards making access to justice a reality through our advocacy for the Legal Aid Act of The Gambia (2008).
 IHRDA has moved even more decisively to demonstrate, as our mission states, that the use of the African human rights instruments and mechanisms provides an important avenue for securing human rights and reparation. After five and a half years of strategic management at IHRDA, we can confidently say that the outgoing leadership leaves an organisation with a sharp vision and mission, a strong set of values, clear goals and objectives. It is our sincere wish that IHRDA will continue to move ahead competently to advance human rights on the African continent, Sheila said.
As we leave, we also warmly welcome Aristide and Meskerem. We have had fruitful exchanges as we worked to hand over to them, as well as with staff and Board to provide for a smooth transition. We are glad to introduce to you, Dr Aristide Nononsi and Meskerem Geset Techane.
Aristide, who took office on July 17, had this to say: "I am delighted and honoured to work with IHRDA. I want to say how impressed I am with the work of IHRDA in the field of human rights promotion and protection. As part of the new management, we would be open to innovative ideas and would bank on IHRDA's existing strong and effective foundation to move the organisation forward."
Meskerem who took office on 19 June, had this to say: "It's an honor to be part of IHRDA whose work has been an inspiration for me as a human rights lawyer working in Africa. I am privileged to take over from a dedicated leadership and a strong devoted professional team that advanced IHRDA with a firm organizational foundation and remarkable accomplishments to move forward with. I am confident that consolidating our strategic and visionary leadership, we will stretch forth IHRDA's path as a leading human rights defender in Africa."
Dr Aristide Nononsi
Dr Aristide Nononsi is associate member of the Centre for Human Rights and Legal Pluralism (CHRLP) of Mc Gill University, Montreal. Before joining IHRDA, Aristide was the Executive Director of the Centre for Developing Area Studies (CDAS) in the Faculty of Arts at Mc Gill University, Montreal Canada and Senior Boulton Fellow in International Development and the Law from 2007 to 2011. He has taught and published on issues surrounding fragile States, international development law, the law of international organisations, human rights, children's rights, and international labour law at Mc Gill Faculty of Law.
Aristide has also served as Executive Secretary of the Staff Appeals Committee and Head of the Appeals Committee Unit (APCU) in the African Development Bank (AfDB) from 1999 to 2007.  He has worked for the International Labour Organisation (ILO) on child labour and children's rights, international labour standards, and maritime labour law in Switzerland, Côte d'Ivoire and Algeria from 1993 to 1999. Aristide holds a doctorate in law from Université Montesquieu Bordeaux, France, as well as two Master of Arts degrees, one in political science from Science Po Bordeaux and the other in Law from Université Bordeaux I, France.
Meskerem Geset Techane
Meskerem Geset Techane, an attorney/advocate of the Federal Courts of Ethiopia, has served in the Ethiopian judiciary as a High Court judge. Meskerem has worked in the legal aid teams of human rights organizations like the Children's Legal Protection Center of the African Child Policy Forum, the Organization for Social Justice in Ethiopia, and the Ethiopian Women Lawyers Association on whose Board she serves. As a keen advocate of child rights and women's rights, she has been greatly involved in human rights focused litigations and pro bono service for women and children victims of human rights violation. Meskerem has a recognized practice as a consultant on human rights and gender issues working with a wide range of civil society. She has also worked with several international organizations operating in Ethiopia including the UN agencies as the UNDP, UNICEF, UNHCR and OHCHR.
Meskerem has also taught law and served as a Director of the Law Department in academic institutions based in Ethiopia; the Public Service College of Oromia and St Mary's University College, where she has written academic texts on 'Gender and the Law', 'Criminal Law', 'The Law of Agency' , 'The Law of Persons' and 'The Law of Extra Contractual Liability'. Meskerem holds LLB degree from the Addis Ababa University, Ethiopia and LLM degree on Human Rights and Democratization in Africa from the University of Pretoria, South Africa.